"Tarot de. St. Croix is one of those rich, beautiful decks worth acquiring for your collection. The emotions that each work of art portrays, the layers of tarot symbolism, both the resonant connection to the divine and the connection to the mundane that merge seamlessly throughout the deck art narrative are just a few of the reasons the Tarot de St. Croix has remained so sought after and beloved over the last decade." Benebell Wen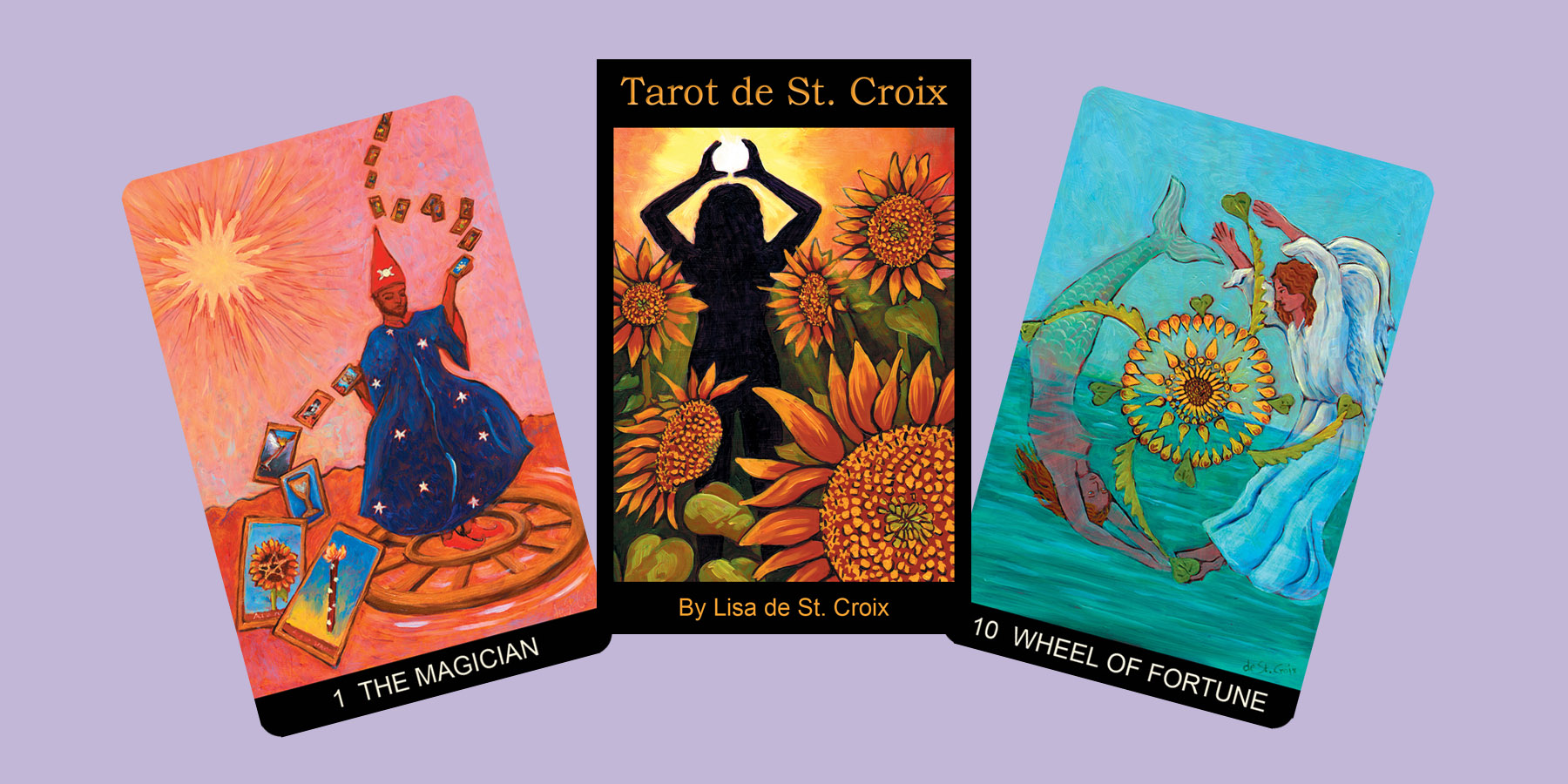 Tarot de St. Croix transcends time to portray the tapestry of life. Although the images in this deck are unique, they still hold the essence of the universal archetypes. The visual metaphors are inspiring and easy to understand and carry information that can guide us on our journey through life. Acting as a visual encyclopedia of the soul, Tarot de St. Croix helps find answers to the big questions. Inspired by a vision where I was told to paint the Tarot, I undertook a five year journey into the archetypal realm of the major and minor arcana.
This third edition of Tarot de St. Croix has evolved into an elegant borderless version. The 78 cards are 2 ¾" x 4 ¼" slim, easy to hold and shuffle. They are printed on sturdy but flexible card stock with a durable matte finish. A black band at the bottom contains the numbers and names of the cards. The deck sized book, 100 pages of Tarot insight and instruction fits perfectly in the box with full color images of every card. There are three spreads, journaling ideas, meanings and personal stories about the magic and synchronicity of creating the deck. The box is a sturdy clamshell design with magnetic closures.
Take a random screenshot or click on images of this video as it is playing – that is your card for today. Click on Tarot Card Meanings below for insight.
"In Tarot de St. Croix, Lisa imparts to the spiritual traveler her personal experiences while navigating these ancient, sacred paths which we share. This hand painted deck is a colorful, dazzling, multi-faceted gem and her story will touch those who journey with her powerful work. Good medicine for the weary soul and inspiration for those seeking a kindred spirit!" Arnell Ando
Guided by synchronicity and mystical messages I painted seventy eight paintings on 13″ x 8″ panels. The rich vibrant colors of oil paint give this deck a warm and sensuous feel. Each painting is available as a signed and numbered archival print on paper 12″ x 7″ for $88 and 18″ x 11″ for $160. Two week delivery for US orders with free shipping. International orders should be delivered in three weeks and a shipping surcharge will be added.
To order prints, use the contact form below: