Invoking the Goddess – Oracle and Action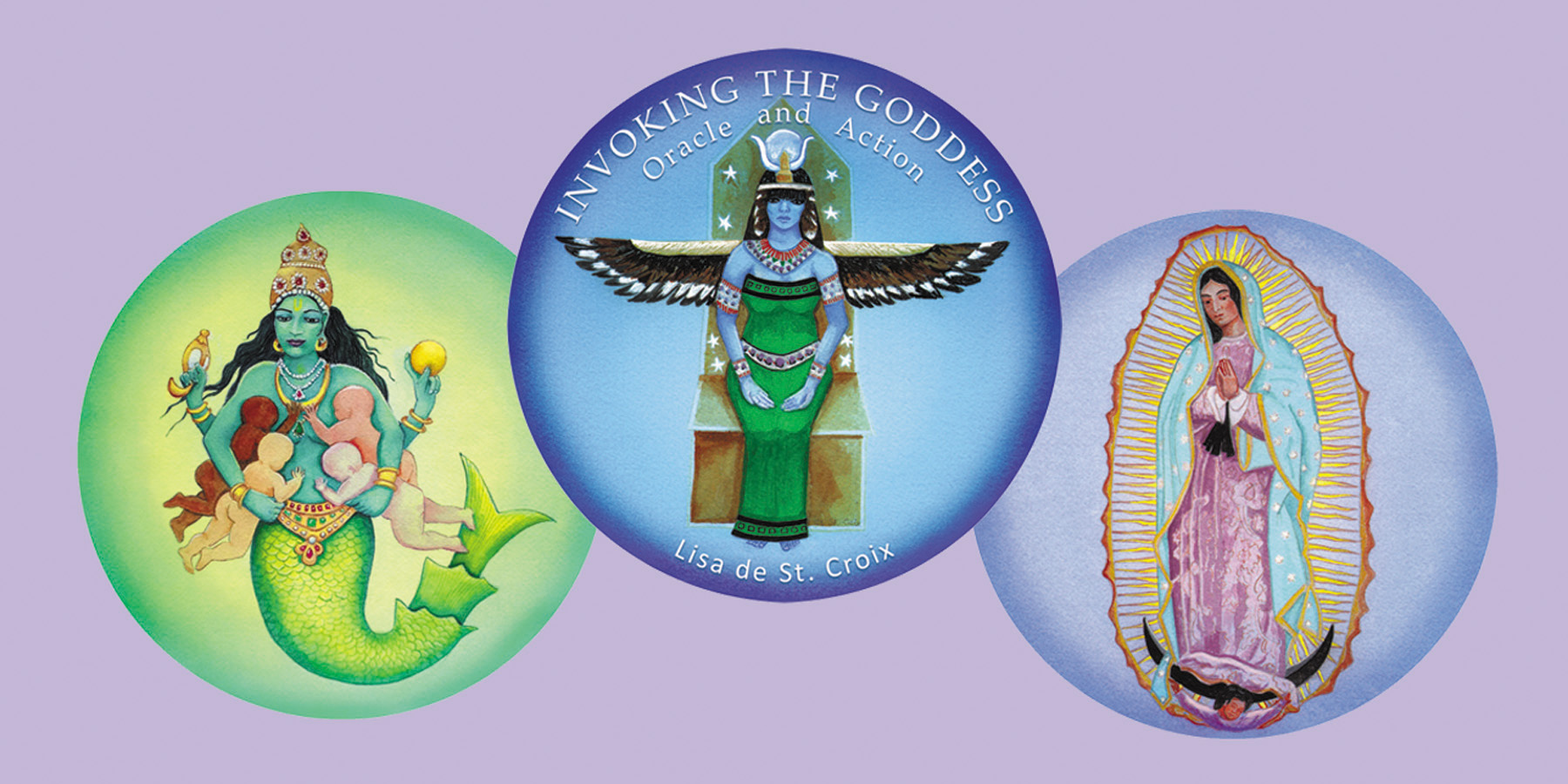 In this round deck, thirty-three Goddesses from around the world share their wisdom in allegiance with your own path of self-discovery. Each Goddess speaks to you directly as an oracle and suggests an inspired action. Receive alignment, nurturance, love, creativity, and magic. Lisa de St. Croix lovingly invoked the Goddesses in creating this deck. The image of the Goddess is on one side with the oracle and action on the other side. The round cards are 4.4″ in diameter printed on standard weight matte cardstock, housed in a round box. $39 plus shipping.
"There's a nurturing energy to Invoking the Goddess, a soft yet powerful presence, and it feels maternal. Absolutely beautiful. Highly recommend that you take a closer look at this deck and consider it for your collection." Benebell Wen
---
Tarot de St. Croix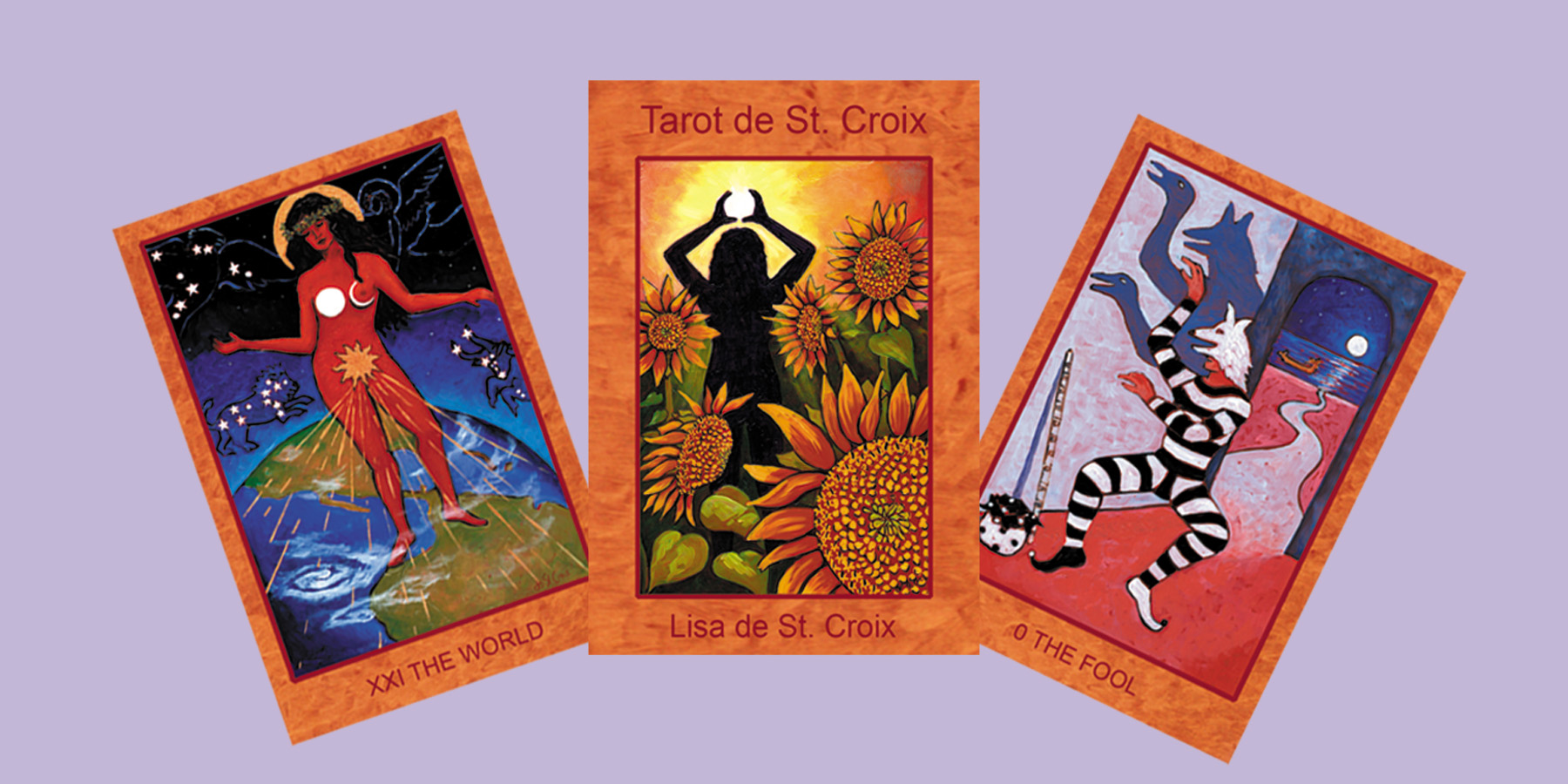 Tarot de St. Croix is a contemporary multicultural deck. The rich, vibrant colors of oil paint gives this deck a warm and sensuous feel. Although the images in this deck are unique they still hold the essence of the universal archetypes. The visual metaphors are inspiring and easy to understand and carry information that can help you on your journey through life. Acting as a visual encyclopedia of the soul, Tarot de St. Croix will help you find answers. Tarot de St. Croix is a deck of 78 cards printed on glossy card stock. It comes in a sturdy lidded box with full-color booklet of meanings and spreads. $44 plus shipping.

"Card after card, you accumulate this realization that you're looking at brilliance. There is a deeply spiritual and mystical dimension to the Tarot de St. Croix." Benebell Wen

"In Tarot de St. Croix, Lisa imparts to the spiritual traveler her personal experiences while navigating these ancient, sacred paths which we share. This hand painted deck is a colorful, dazzling, multi-faceted gem and her story will touch those who journey with her powerful work. Good medicine for the weary soul and inspiration for those seeking a kindred spirit!" Arnell Ando
---
de St. Croix Lenormand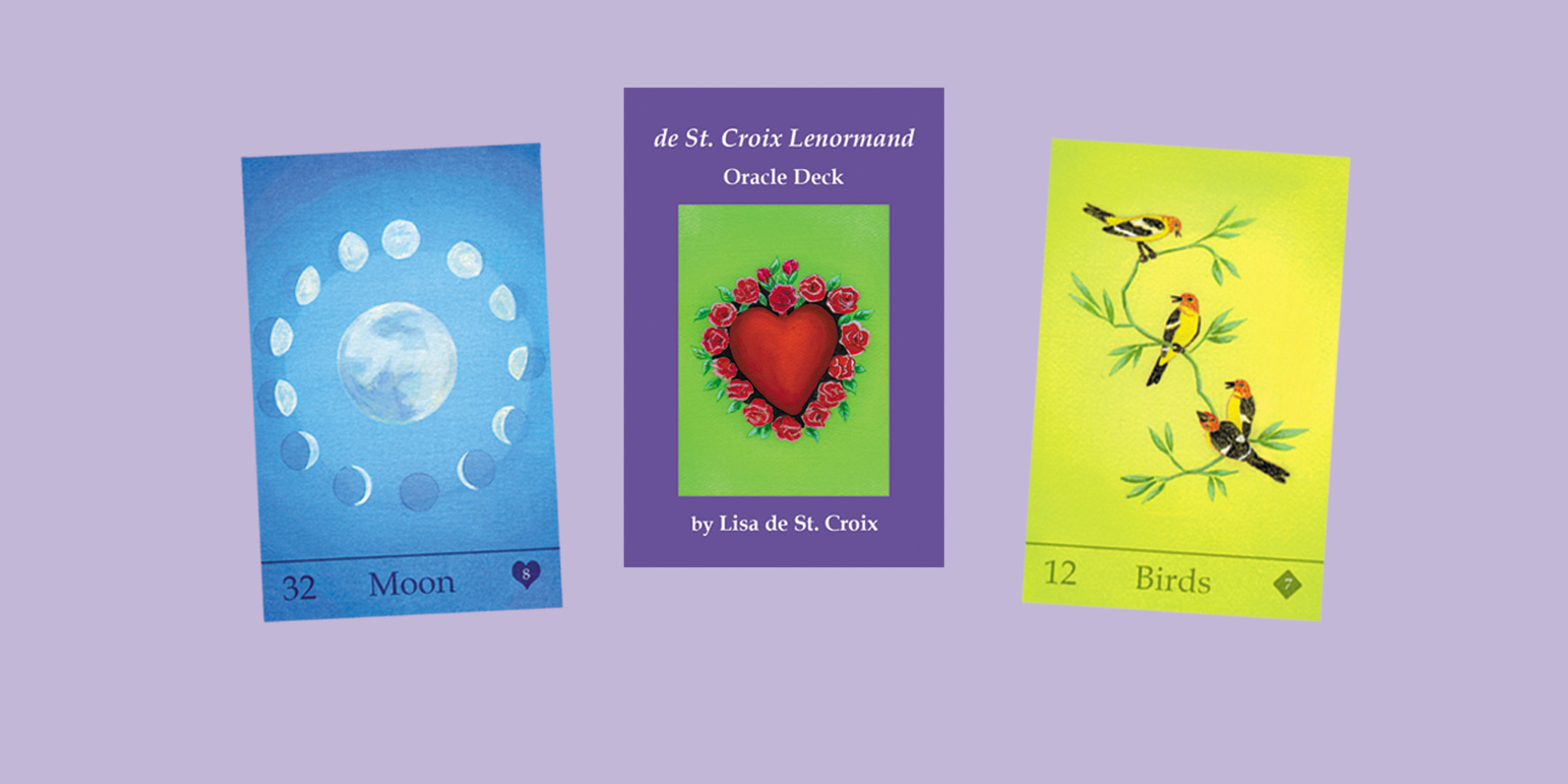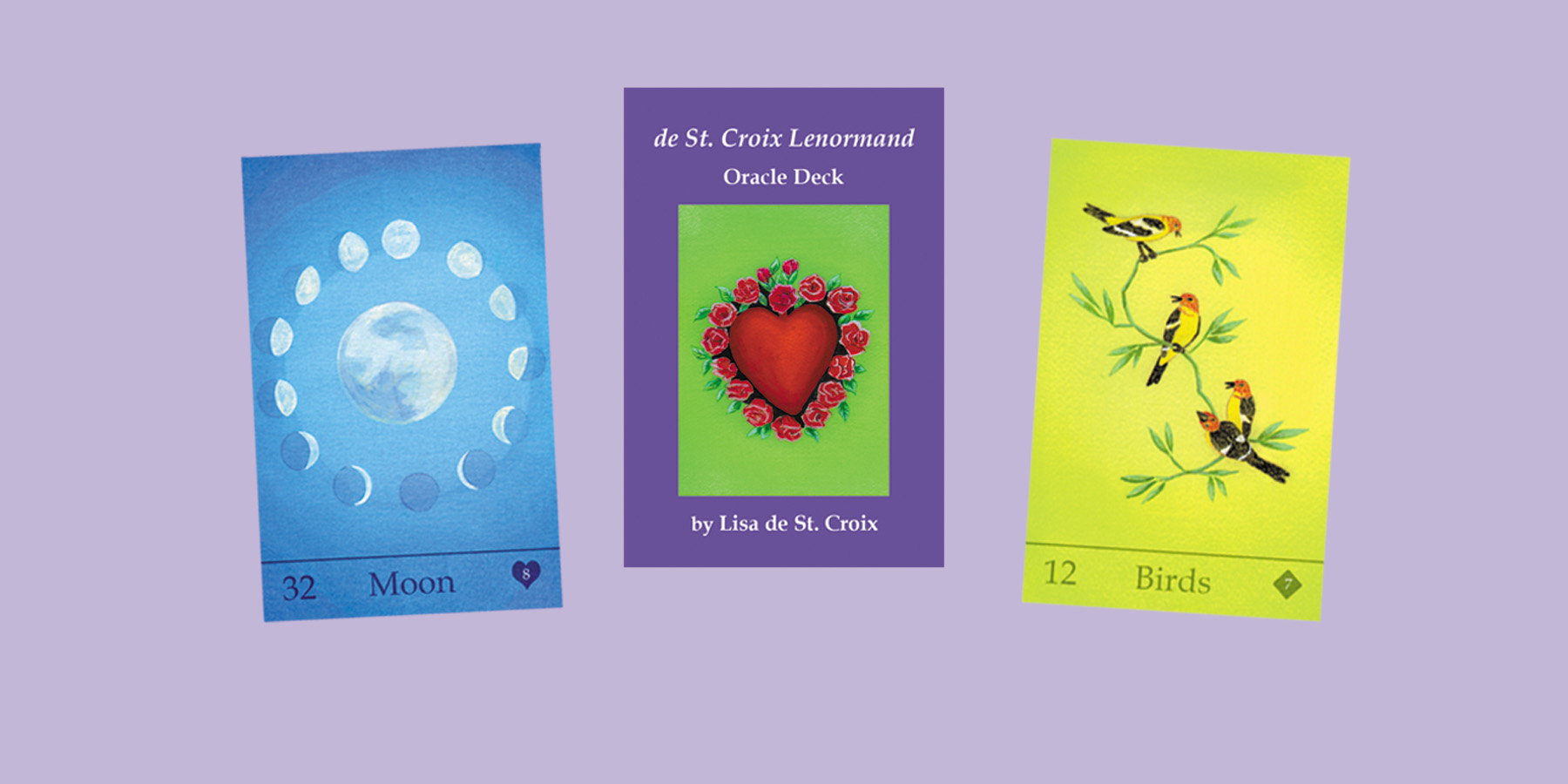 de St. Croix Lenormand is a contemporary deck that offers a new look at a 200 year old divination system, that provides answers to your questions through 36 oracular symbols and cartomancy. The original cards were painted in layers of watercolor washes that gives a vibrant luminosity to the cards. The images are universal and easy to understand. Lenormand began in Germany as the Game of Hope. The deck gained popularity throughout Europe and was later named after Madame Lenormand – a famous French psychic who read for Josephine Bonaparte. The cards are 2.25″ x 3.5″ printed on matte card stock. They come with instructional cards housed in a clear box. $33 plus shipping.
"I received my de St. Croix Lenormand deck today and I am absolutely delighted! It is exactly what I have been searching high and low for. The minimalist in me loves loves, loves the simplicity. The practical side of me appreciates that the cards have all the information needed. The whimsical in me just adores the lovely colorful cheerfulness! I am very happy to own this lovely Lenormand deck." Jeanine
---
Purchase all three decks for $108 and save on decks and shipping.
---
Tarot and Oracle Readings
Using the decks she created, Lisa offers readings to give you insight on a question that you might have or simply see what the cards have to tell you. Lisa can meet in person or do readings through email, video or phone. Gift certificates are available and can be mailed directly to your recipient. Approximately forty four minutes for $88. Contact Lisa to set up an appointment at lisadestcroix@hotmail.com
"Lisa has given me many Tarot readings and they have all been utterly amazing and life-changing. Lisa uses her own deck through which she channels exactly what is up for me in the moment. Her deep wisdom and compassion translates the cards in a very intuitive and meaningful way. I highly recommend Lisa's readings and also her insightful decks!" Duija Ros
---
Prints
Museum quality, signed and numbered, limited edition prints of any of Lisa's paintings are available. Prints are archival ink on heavy watercolor paper.

Prints from Invoking the Goddess, Tarot de St. Croix and de St Croix Lenormand.
5″ x 5″ $33

5″ x 8″ $44

8″ x 8″ $66

7″ x 12″ $88

11″ x 18″ $160
Prints from oil paintings – prices from $33 to $160 depending on the size.
Two week delivery for US orders with free shipping. International orders should be delivered in three weeks and a shipping surcharge will be added.
Please contact Lisa to order: lisadestcroix@hotmail.com
---
Paintings
For inquiries about purchasing paintings, please contact Lisa at: lisadestcroix@hotmail.com
---