"The diverse representation of multiple pantheons and traditions is beautifully and reverently done. On the text side of each card, one key symbol associated with the goddess is pictured, along with a call to action, addressed to you, straight from that goddess. Combining artistry and metaphysical knowledge, Lisa de St. Croix has really calibrated this deck for goddess invocation. It's quite impressive." Benebell Wen
Invoking the Goddess Oracle and Action is a round deck of thirty-three Goddesses. On the back of each card the Goddess speaks to you directly as an oracle that invokes the archetypal qualities within you. Each Goddess gives you an action to incorporate into your activities. Goddesses from different cultures all around the world are represented. Many of the Goddesses are iconic, a few obscure Goddesses are also included.
I believe that the Divine Feminine is here to help and guide us at this auspicious time on the planet, that there is a shift in the social paradigm toward women claiming their power. This deck serves as a point of focus on what we can do individually on our own path of self-discovery, which in turn will ripple outward bringing alignment, nurturance, love, creativity and magic. My process was to call in the Goddess as I painted and wrote. I felt the presence of the Goddess guiding me, and was both awed and humbled.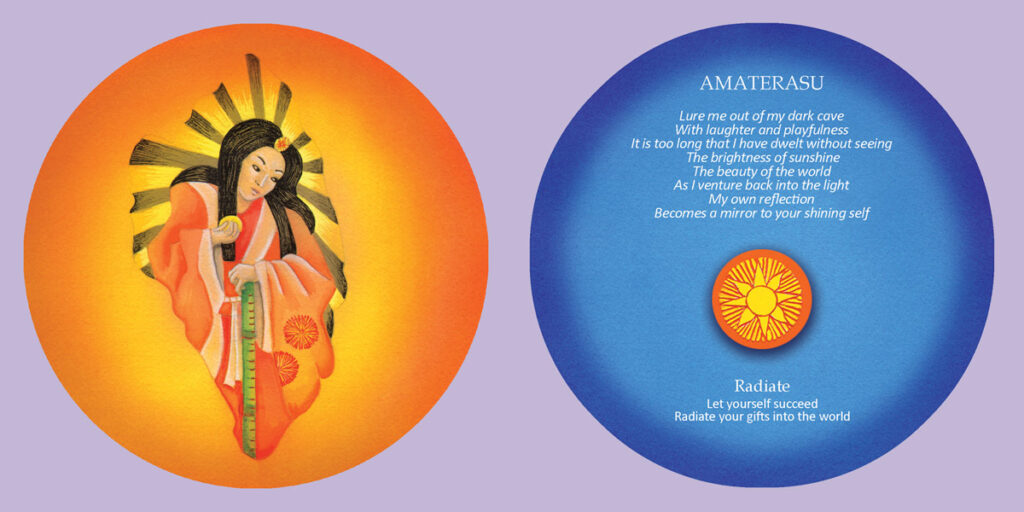 Each card, 4.4″ diameter, has an image of the Goddess on one side and an oracle in the voice of the Goddess and a symbol, keyword and action to follow on the other side. The round, art card stock cards are housed in a round box.

"There's a nurturing energy to Invoking the Goddess, a soft yet powerful presence, and it feels maternal. Absolutely beautiful. Highly recommend that you take a closer look at this deck and consider it for your collection." Benebell Wen
In the original paintings of Goddesses, I used a layered wash technique to create vivid, saturated watercolor paintings. I learnt this technique while studying Sacred Painting at the Harish Johari house in Haridwar, India.
Square Fine Art prints are available for any of the Goddess paintings 8″ x 8″ for $66. Two week delivery for US orders with free shipping. International orders should be delivered in three weeks and a shipping surcharge will be added.
To order prints, use the contact form below: