Visionary artist Lisa de St. Croix explores the meaning and symbolism of tarot in this contemporary, multicultural deck.
Tarot de St. Croix was inspired by my visions, current affairs, personal experiences and mythology. This deck transcends time to portray the tapestry of life. The rich, vibrant colors of oil paint give this deck a warm and sensuous feeling. Although the images in this deck are unique they still hold the essence of the universal archetypes. The visual metaphors are inspiring and easy to understand and carry information that can help you on your journey through life. Acting as a visual encyclopedia of the soul, the Tarot de St. Croix will help you find answers.
DECK
Tarot de St. Croix is a deck of 78 cards printed on excellent quality card stock. It comes in a sturdy lidded box with full-color booklet of meanings and spreads.
In Tarot de St. Croix, Lisa imparts to the spiritual traveler her personal experiences while navigating these ancient, sacred paths which we share. This hand painted deck is a colorful, dazzling, multi-faceted gem and her story will touch those who journey with her powerful work. Good medicine for the weary soul and inspiration for those seeking a kindred spirit! Arnell Ando
Tarot de St. Croix with its vibrant and soul stirring imagery, would make a beautiful and empowering gift, and an important addition to your Tarot Library. Leslie Cochran.
PRINTS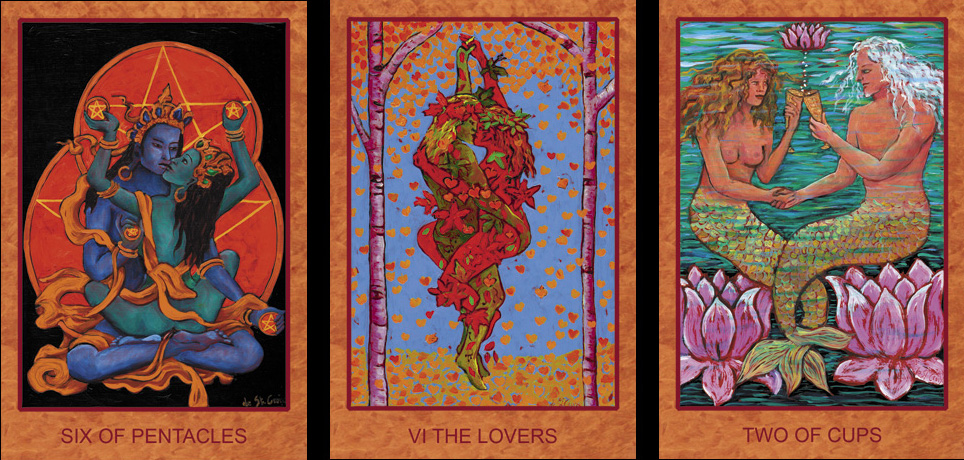 Each card is available as a signed museum quality print on paper.
Contact me to order prints http://lisadestcroix@hotmail.com
5″ x 8″ $35
7″ x 12″ $75
11″ x 18″ $150
Lisa de St. Croix has done a fine job of producing a deck that is at the same time personal and integrated with the world as a whole, acknowledging also the artistic and divinatory traditions in which she works. Tarot de St. Croix can also work well as someone's first reading deck, given its visual clarity and warmth. It succeeds on many levels and offers and optimistic and inspiring philosophy toward life. Eric Lerner
All images © Lisa de St. Croix 2014